Hi-Target Surveying Instrument Co., Ltd attended 2013 UK GeoSouth Exhibition held in May 1st-2nd. With the positive feedback of GeoNorth exhibition in March. This May event attracts numerous of experts and attendees all over the world. This exhibition showed them what is going on in the surveying field.
GeoNorth and GeoSouth are the extensions of GEO12, which have many- year history, are always exhibiting the latest age cutting technologies of Geospatial industry so whoever is a Surveyor, GIS Professional, Architect, Civil Engineer, Contractor, Cad User and member of AGI, RICS, ICES, TSA, IIS will benefit from a trip to those events.
We are very proud that Hi-target was the only Chinese Brand in the 2013 UK GeoSouth Exhibition. Our V30pro GNSS receiver and Qstar series high accuracy GIS handheld exhibited in this event, attracted tens of thousands attendees.
We had a nice talk with our regular customers from UK, Bulgaria, Ireland and also we took pride to introduce our products to national Army who manages the international land surveying and protection.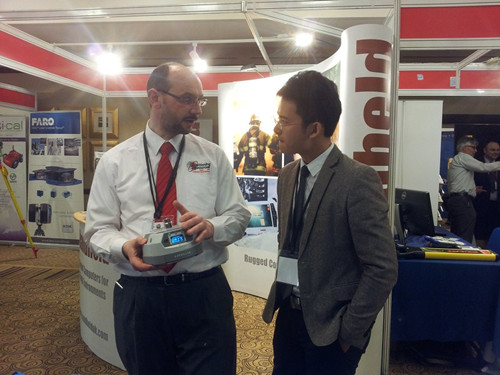 During this event, we get some contacts with potential dealers who want to cooperate with Hi-Target, with this successful start, we will be get more confident and efficient to cater the international surveying market better.