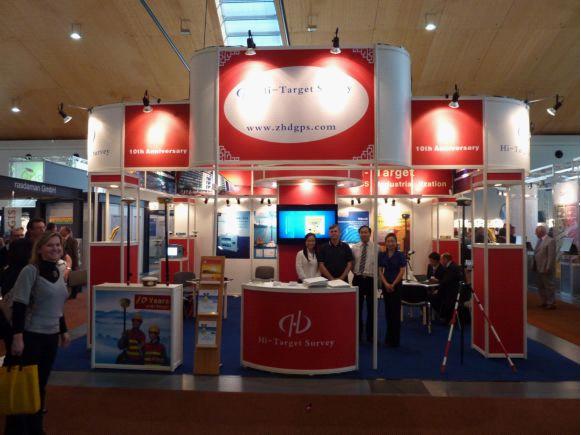 Hi-target's booth in EXhibition Center of Karlsruhe of Germany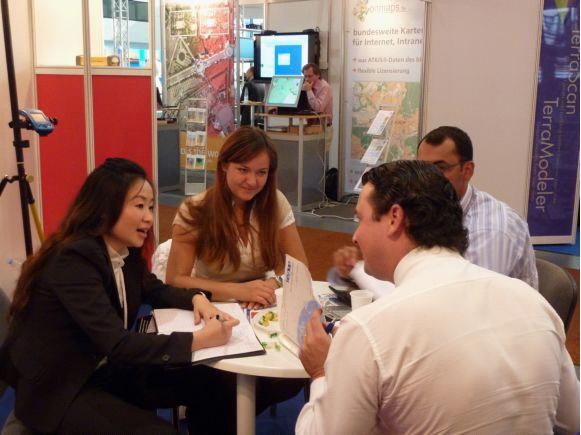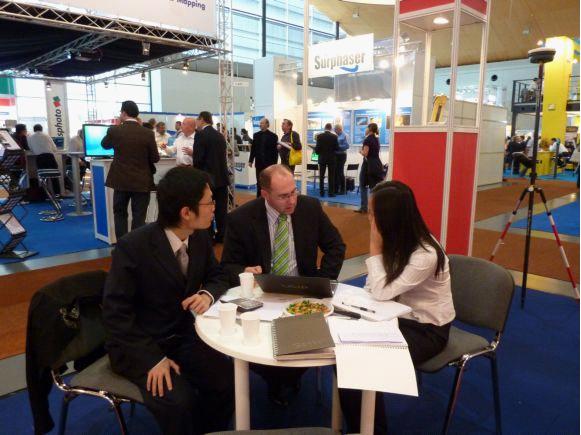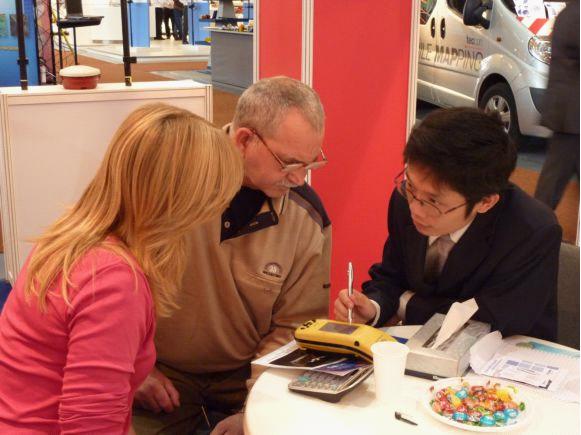 Hi-target's staff Introduced products to the guests
From September 22nd to 24th, INTERGEO 2009 was held in Exhibition Center (Messe) of Karlsruhe of Germany. Almost 16000 attendances visited this globally largest and most important land survey, land information and land resources management trade fair. Exhibitors can be listed from more than 30 countries including China, America, Holland, England, India, Israel, Japan, South Africa and Korea and so on.
As the leading companies of Chinese GNSS industries, Hi-Target also been invited to attend this exhibition. Hi-Target set up 42m2 large booth showing latest technologies which leading China GNSS industries including Q series GIS data collectors, HD series echo-sounder, K series marine instrument, V-net series CORS receiver to welcome visitors in constant stream from all over the world.
Q5 is the most attractive GNSS product in this exhibition, continuing its best popularity in INTERGEO 2008. Compact appearance, powerful functionality, better professional and better stable after one year update, no doubt that Q5 can attract so many customers.
When learned of that the specifications of Q5 is already on the top in this GIS collector field while the self-developed software is such user friendly and function-complete, all the customers and guests showed very positive attitude and strong interest to Hi-Target and its profession. Furthermore, seeing from Hi-Target, they become more and more believing in Chinese hi-tech productions consequently, this Q5 GIS collector means much more than the product itself to all the international customers.
Furthermore, V9 GNSS RTK receiver is also the hot point from Hi-Target. V9 GNSS RTK receiver currently is the most popular RTK receiver in global market, especially in countries of Italy in Europe, Malaysia in Asia and Brazil in South America and so on, V9 is achieving the leading market share.
Only in this short three-day exhibition, there are more than 100 potential customers coming to consult continuously, which shows the daily-increasing competitions of Hi-Target in international market while proves that "China GNSS" is stepping into the world stage.