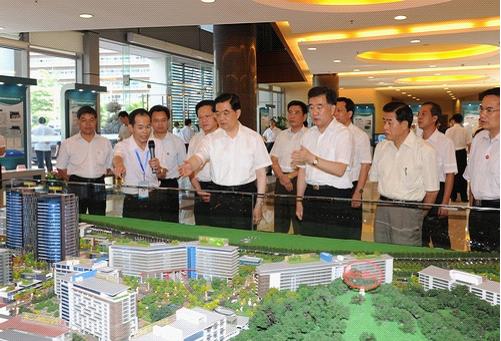 After the opening ceremony of the 26th World University Summer Games hosted by Shenzhen, General Secretary of the CPC Cen tral Committee, Chinese President and Central Military Commission Chairman Hu Jintao visited Tian'an Technology Zone of Panyu Guangzhou accompanied by Wangyang, member of the Political Bureau of CPC Central Committee &Secretary of CPC Guangdong Committee.
General Secretary Hu Jintao has always attached great importance to the problem of how to adapt to the new changes of economic situation to further accelerate the transformation of the mode of economic development. Thus, during the visit, Hu Jintao was focusing on understanding of the situation of the scientic and technological innovation, restructuring and development. On the moring of August 14th , after having understanding of the overall situation of Guangzhou Panyu Tian'an Technology Zone, General Secretary Hu Jintao exchanged with the key enterprise of the zone. As one of the largest and listed companies in the zone, President Liao Dinghai introduced Hi-target's four main business situation to Hu Jintao. Hujintao had great interest in Hi-target' products and made highly complimentary remarks about its scientific and technological achievements. After the visit, Hu jintao shook hands with the president Liao Dinghai.
On behalf of the advanced technology representative, President Hu Jintao attended a meeting with General Secretary of the CPC Central Committee and Central Military Committee President Jiang Zeming and Chiness President Yang Shangkun.
"It's my great honor to have the opportunity to meet two national leaders." President Liao Dinghai said.