Fill in the Blank below to Get a 15-Day Trial Code
Registration will be required after the initial installation. Please leave the 13-digit Serial hardware ID (each ID can apply for '15-day Free Trial' only once) in the following 'Message' box to get the activation code. The code will be sent back by email within 7 working days. Please wait patiently.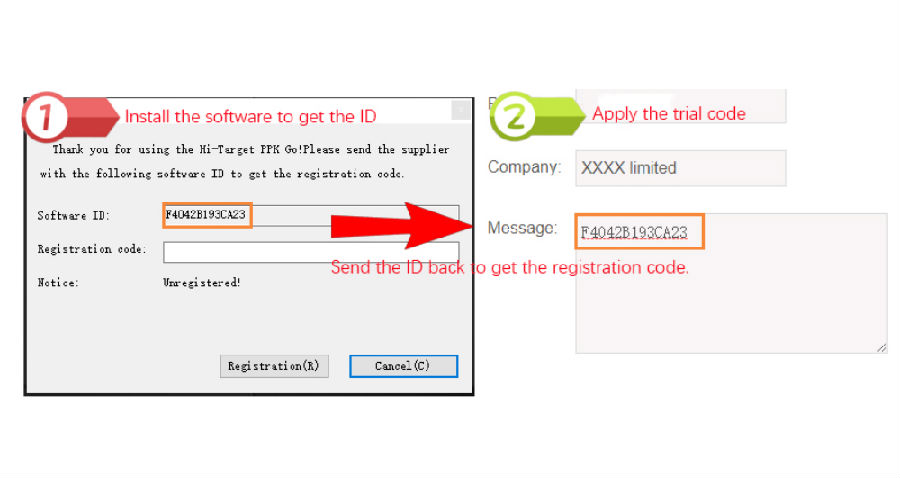 When the trial period is over, it can be extended with a paid code. For more information about the paid code, please contact us or your local software provider.

Hi-Target reserves the right of final interpretation. Any issue and suggestions about the software are appreciative to feedback to our product manager's email sevenzhao@hitargetgroup.com.
Precautions for Software Installation
Installing the software to the system drive (C drive) might result in error messages because of the firewall's restrictions on file access. You can run as Administrator or install the software to another drive.
PPK Go software uses the offline registration mode. The algorithm will read the CPU ID, motherboard ID and hard drive ID of the current computer to generate a unique hardware identification code. If the user does the following actions on the computer after obtaining the ID, it may cause the ID to change. For example:
1. A new memory device is inserted, including a USB drive or a portable hard disk.
2. Bluetooth working status changes.
Before entering the registration code, please keep the same working state as when getting the ID. Once the registration succeeds, the status will not be affected anymore even the user does the above changes.
Note: Once submitted, it means you agree to Hi-Target's Privacy Policy & subscribe to Hi-Target's Newsletter.