April 26, 2016.Recently, Hi-Target visited National Cheng Kung University in Taiwan, and had deep communication with the main academics from department of Geomatics. The communication was so successful and its topic is mainly related to the education with new technology of surveying and mapping nowadays. Hi-Target had its report on company introduction, business layout and technology innovation which brought interests to all attendances and expressed the great potential of mutual cooperation in the near future.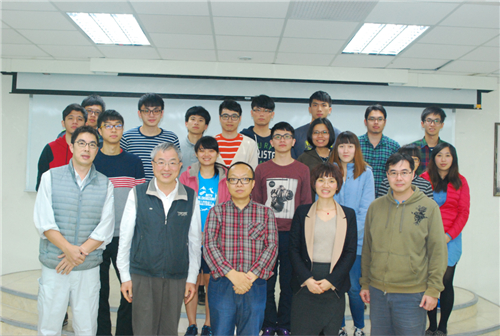 Hi-Target vice-president, Mr. Huwei (middle of front row) with Taiwan National Chiao Tung University
On the same day, Hi-Target was also invited to give speech on "Nature Emergency Relief Solution from Hi-Target" in the department of civil engineering and disaster prevention and water environment research center of Taiwan National Chiao Tung University.
Finally, The University Communication of Hi-Target was closed with the visiting to National Taipei University of Technology. "Hi-Target is a company with pretty potential in development strength, industrial prospective, especially the determination to cooperate and support the education with universities. It is indeed a good employment options worth considering." said by the teachers and postgraduates.
Hi-Target,as a leading geographic instrument and solution provider in China, is always attaching great importance to the communication with universities and deepening the education of surveying and mapping. "We hope this University Communication will be a good start to bring our university-enterprise cooperation concept go outside, Hi-Target will speed up and enhance the investment and development strength on international surveying and mapping geographic information education industry. Not only in Taiwan, looks around the world, we would like to work together with more universities worldwide and make contributions to the world education development of surveying and mapping." expresses by Mr. Huwei, Vice-president of Hi-Target.