In 2013, Jan, 9th, the Chinese-language edition of Forbes issued the first 2012 Forbes list, China's potential enterprise, in Shanghai. After rounding out at this list last year, this year Hi-target also appear at this list and become the only company in Surveying and mapping geographic information industry that has been selected in this list for two consecutive years. At the list of the "Most potential marketing enterprises" of this year, Hi-Target (300177) ranked the 92th place, which forwarded six place compared to last year's 98th place.
In 2012, Hi-target still maintain a solid growth pace. The income of the former three quarter is 254million RMB, which increased 25.74% compare to the same period last year. Hi-target also branched out into other businesses, at the mean time, it scored a biggish break through in the area of Marine sounding products 、3D laser products、 3D laser scanner、High-end Marine detection equipment multiple beam with the proprietary intellectual property rights of Hi-target are all published and planned listed in 2013.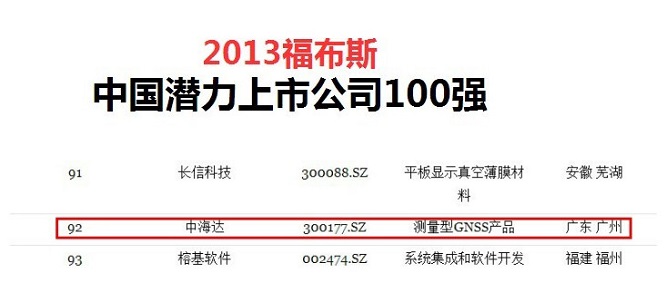 China's potential enterprise list of Forbes, which ranking according to enterprise's growth index (The growth ratio of sales and profit)、Return index (the rate of return on total assets and on net assets )、Profitability indicators (Net profit rate )and Scale merit (The total sales revenue and net profit ), has been screening over 10,000 SMES(small and medium-sized enterprises) which sales volume is between 10 million to 1 billion RMB. After investigation and survey in a great deal of industry and enterprises, and pay a visit to part of outstanding candidate company, then selected 100 potential company both listed and unlisted.
With the ability of being chosen into Forbes list of China's potential enterprise, proves that Hi-target has well market competitive force, healthy company running situation and considerable prospect.