On the three-day InterGEO exhibition this year in Hamburg, who does not want to bring something new to show off? Sure does every company, and Hi-Target, as expected, the No.1 integration surveying solution plan provider from China, is no exception.
The timeline-oriented artwork placed above the exhibition stand stressed the theme of Hi-Target's presence on this international arena, and the historical development of this enterprise. From traditional RTK and total station in the past, to 3D laser scanner and mobile mapping system at presence, exactly on which Hi-Target focused in this occasion, to its long-term plan of launching UAV, USV and multi-beam products to international market, Hi-Target has made it perfectly clear to the world about where it came from, where it stands, and where it is heading towards.
Apart from GIS products (QPad X5, QBox 6/8), GNSS RTK (V100, V90 Plus), total station (ZTS-360R, ZTS-320R), Hi-Target also displayed its self-developed main board (BX 380/242/200) as well as air and spiral antenna. Regarding the highlight on the stand, there is no doubt that Hi-Cloud HS series high-precision 3D laser scanner (HS450, HS650, HS1200), and integrated 3D MMS (iLSP-650, HiScan-C), have become the most fascinating attraction among the exhibition attendees. Flyers, brochures, small souvenirs and gifts were constantly picked up around the booth.
Following the new-established tradition last year, Hi-Target team arranged a two-hour live-demo session every afternoon on the last two days, which provided a great opportunity for direct communication between team staff and clients. Interestingly, every Hi-Target team member were in red uniform, which made instant help and support for the client conveniently available. While some visitors' delivered their inquiries to Hi-Target staff about product price, stability, advantages compared with other similar products, market launching time, etc., others even would like to have a casual talk with beer, coffee or tea at the drink counter. In Hall A3, at E3. 001, Hi-Target has made its territory a pleasant community, where surveyors, geographical experts, global distributors, agents, partners, and media reporters and editors, all could find its place, to talk, to share, to listen.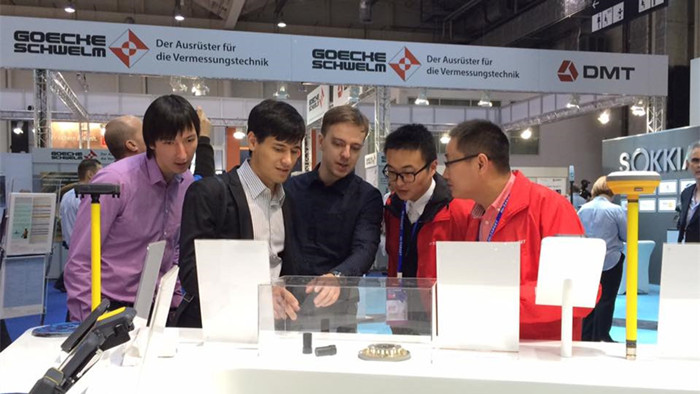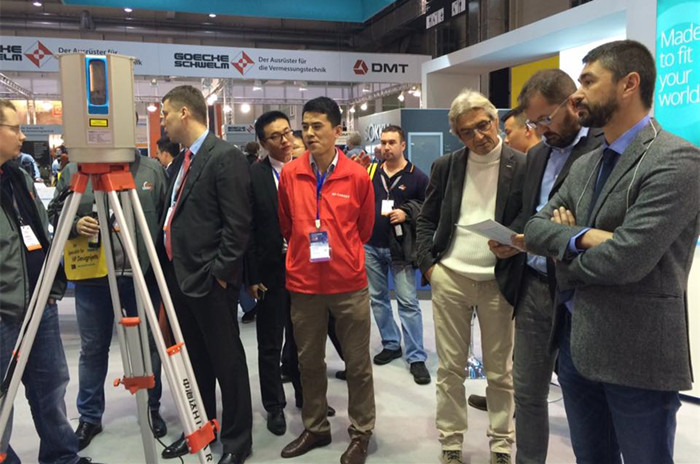 At InterGEO 2016, Hi-Target has proved not only its hospitality for its worldwide partners, but more importantly, its capability of presenting high-quality products to the world, and making every surveying task more convenient. What is the next surprise that Hi-Target will bring to surveying industry? There is really a lot to expect in the future.