Hi-Target once again will present at INTERGEO 2017, the grandest global event in geospatial community, 26-28 September in Berlin, Germany. Hi-Target will join at Hall 1.1, Booth C1.061 at INTEGEO 2017.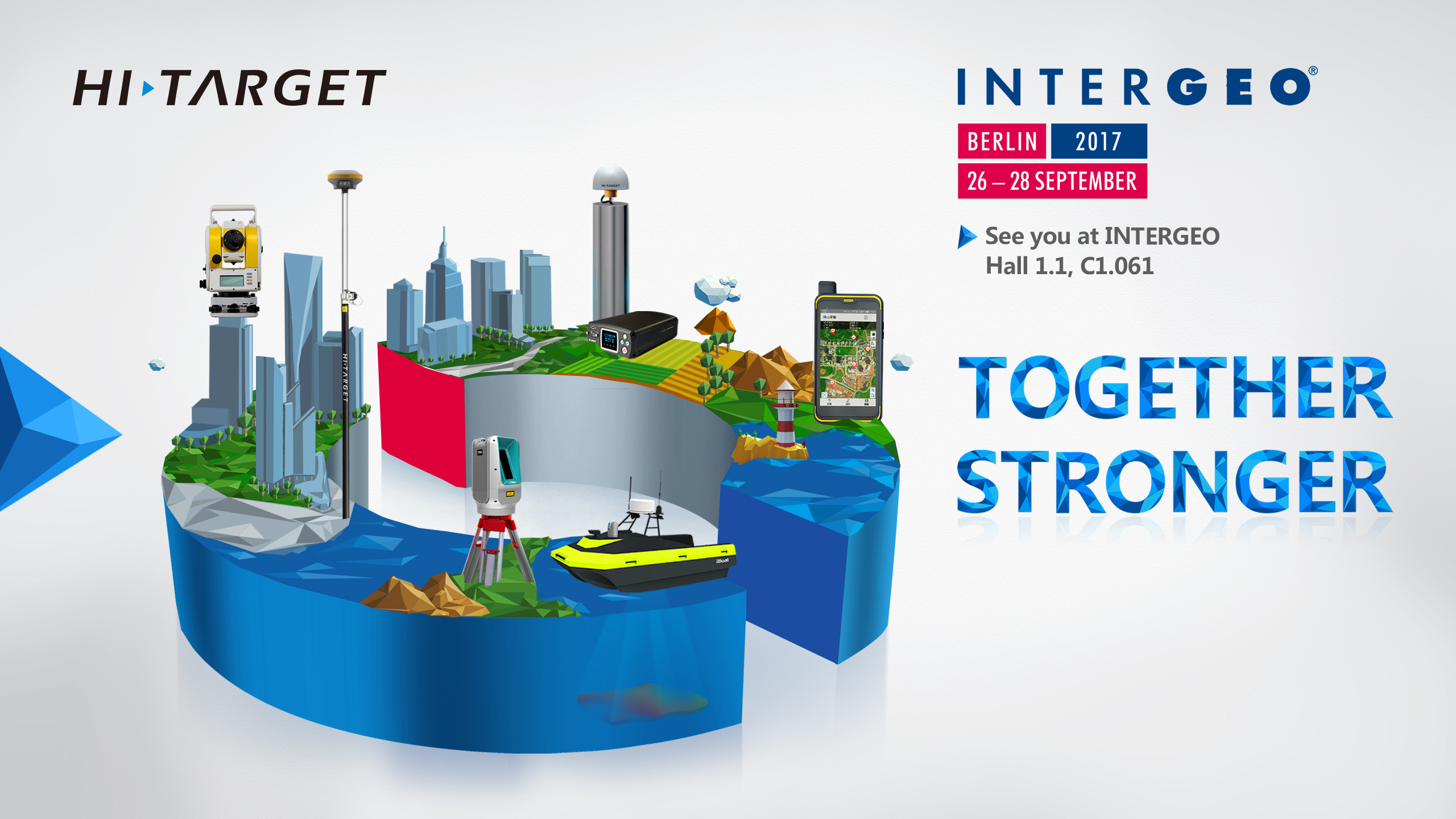 The Hi-Target team for INTERGEO 2017 this year has experts from different sub-branches of measurement technology in presence. Engaging us into a face-to-face communication, we are already for your questions!
Something you must not miss:
1.Our upcoming GNSS Receiver iRTK5 and GIS product QminiA5/A7 will make a debut.
2. High-end products:USV, 3D laser mobile system and more products will be presented at our booth.
● iFlow RP600 ADCP
● HS1200 high-precision 3D terrestrial laser scanner
● iSide 1400 Sidescan Sonar
● iBeam 8120 Multibeam Echo Sounder
3. We have various live demo of latest products and technology to share and experts from Hi-Target team to provide you with solutions.
Live demo Guidelines
Learn more about speakers that will be presenting at INTERGEO 2017 and the details about times and dates. Don't miss these presentations from our experts!
1. New Generation RTK System - iRTK5
Speaker: Stefan Wei
Tuesday, 26 September 2017, 14:20 - 14:50 a.m.
2. Mobile GIS Handheld- QminiA5/A7
Speaker: Stefan Wei&Chris Chen
Tuesday, 26 September 2017, 15:00 - 15:20 a.m.
3. Hi-Target 3D Laser Scanner
Speaker: Zheng Yang
Tuesday, 26 September 2017, 15:30 - 15:50 a.m.
4. Mobile management of tree populations
Speaker: Michael Richter
Wednesday, 27 September 2017, 10:00 - 10:20 a.m.
5. SuperSurv 10- SuperGIS Mobile Platform
Speaker: Chris Chen
Wednesday, 27 September 2017, 10:30 - 10:50 a.m.
6. TG Control match GIS mobil
Speaker: Werner Probst
Wednesday, 27 September 2017, 11:00 - 11:20 a.m.
Details of live demo at INTERGEO will be updated on Hi-Target Facebook and twitter, please follow us to learn more!
Facebook: https://www.facebook.com/HiTargetGlobal/
Twitter: https://twitter.com/hi_target
Join us at INTERGEO 2017!