INTERGEO as the world's largest event for geodesy, geoinformation and land management, is held every year at different cities in Germany. A manufacturer of high precision RTK and company providing comprehensive industrious solutions, Hi-Target aims to expand its footprints worldwide. This year Hi-Target has exhibited at INTERGEO 2017 from Sept.26-28, in Berlin for 3 days.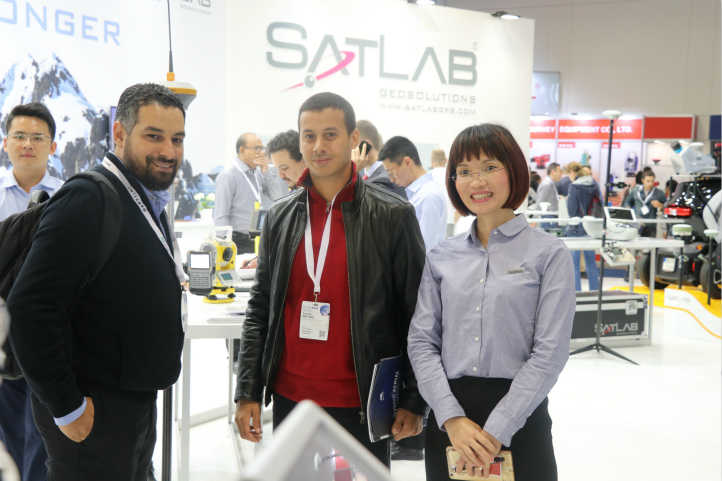 Compared with last year, the space of the booth of Hi-Target was larger and products were showcased in a wider range. Under the light of the Messe Berlin, a simple and elegant designed background board with a logo "Together, Stronger" behind, showcased products could be touched and tried by exhibition visitors to experience the high quality, roughness and intuitive working procedure of the products. Available were two new products from, the GNSS Receiver iRTK 5 and A5/A7 high precision GIS Handheld, along with Hi-Target's high-end marine products iBoat BM1 USV,iSide 1400 Side Scan, iBeam 8120 Mutil-beam, iFlow RP600 ADC.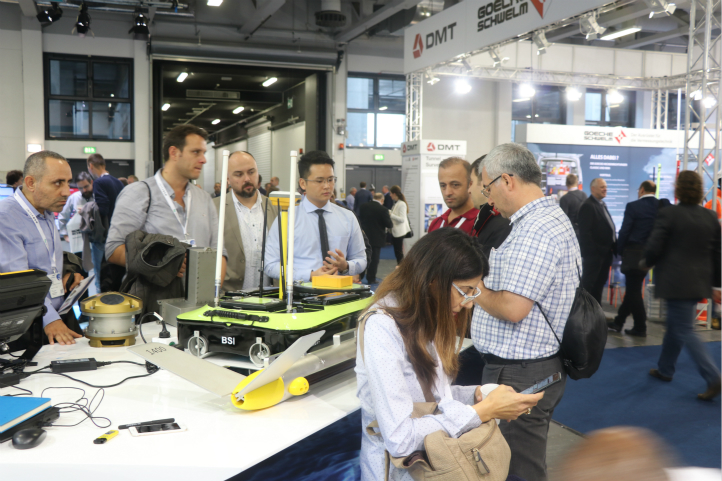 "For many of our customers, GNSS Receiver is the most common and well used tool for surveying applications," said Adin, product manager of Hi-Target. "Our continued innovation in this category underscores our commitment to provide the most professional GNSS Receivers."
Visitors stopping by Hi-Target booth had chances to join in live demo with product experts to learn more information about our products to manage the operations of the features immediately. This year professionals form other companies like TOPO graphic, SuperSurv and ARCHIKART Software AG were invited as guest presenters to contribute their valuable skill experience in using Hi-Target products.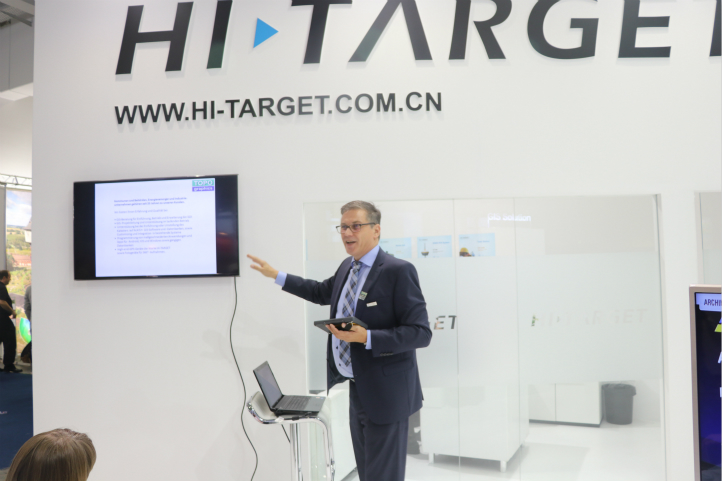 (Mr. Werner Probst from TOPO graphic made a presentation about TGControl match GIS mobile.)
About INTERGEO
INTERGEO, which consists of a conference and a trade fair, is the world's largest event for geodesy, geoinformation and land management. It is held every year at different venues in Germany. The conference, which has around 1,300 participants, deals with current issues from politics, administration, science and industry. At last year's leading trade fair, more than 17,000 visitors discovered the latest innovations from 531 companies from 37 different countries.
About Hi-Target
Established in 1999, Hi-Target today successfully promotes RTK production localization implementation and occupies the leading status in China. To serve the industry perfectly, Hi-Target can provide equipment, software, solutions and services to users active in digital cultural heritage, 3D digital cities, topographic mapping, deformation monitoring, digital factories, tunnel engineering, construction BIM, street map services, urban management, mine 3D measurements, city gas pipeline networks, water pipeline monitoring, precision agriculture and also marine and hydrographic mapping and surveying.